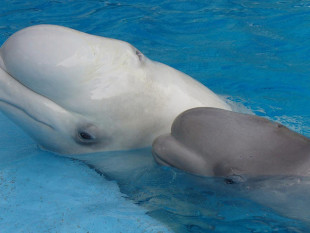 Target: Joel Manby, CEO of SeaWorld
Goal: End SeaWorld's dolphin and beluga whale breeding programs and begin making plans for these animals' safe relocation to a seaside sanctuary.
SeaWorld's dolphins and beluga whales are still being bred for SeaWorld's gain and the animals' loss even after the huge victory for SeaWorld's orcas. The company has faced heavy criticism in recent years, mostly due to the release of the documentary Blackfish. The film, which focused primarily on the plight of SeaWorld's orcas, exposed the park's many questionable and downright unethical practices. Mounting public pressure eventually led SeaWorld to end its orca breeding program earlier this year.
While beluga whales and dolphins were sidelined in the Blackfish film, they are also highly intelligent mammals who do not thrive in small glass enclosures. Like their killer whale cousins, they are biologically wired for life in the ocean and are susceptible to a number of unnatural sicknesses and disorders in captivity.
Marine biologists have theorized that the stress of confinement weakens these animals' immune systems and damages their mental and emotional health, often causing erratic behavior and even premature deaths. In fact, in just the last ten years, over 60 dolphins have died in SeaWorld's care, most of them well below their average life expectancy. Since 1993, more than a dozen of SeaWorld's belugas have died, according to PETA.
Despite these deaths and growing evidence that whales and dolphins do not fare well in captivity, SeaWorld is continuing to breed these animals. If SeaWorld truly cared about their animals as much as they claim to, they would not continue to subject them to life in captivity for their own profit. It is time for SeaWorld to stop breeding all of its whales and dolphins and to start seriously considering constructing a seaside sanctuary for the animals' benefit. Urge SeaWorld to end its dolphin and beluga breeding immediately.
PETITION LETTER:
Dear Mr. Manby,
I was ecstatic to learn about SeaWorld's decision to stop breeding its orcas earlier this year, as were many other animal lovers and activists. You can imagine my dismay, then, when I realized that this breeding cessation was not going to apply to SeaWorld's beluga whales and dolphins.
As I'm sure you know, belugas and dolphins are just as highly intelligent and sensitive as killer whales. They require a great deal of mental and physical stimulation to stay healthy. In the wild, they are able to accomplish this by swimming for miles in the ocean and maintaining close-knit, complex relationships with their family units.
A life in an aquarium denies them these natural behaviors. That is why I find SeaWorld's decision to continue breeding these animals for a life in captivity so upsetting. Belugas and dolphins deserve more than being used as performers or exhibits for SeaWorld's profit.
If SeaWorld wishes to show the world that it truly has marine life's best interests in mind, it must vote to end the breeding of belugas and dolphins as soon as possible. Furthermore, it is time for SeaWorld to start seriously considering the construction of a seaside sanctuary for these animals. The National Aquarium has proven that a sanctuary is indeed possible, so there is no more room for excuses on SeaWorld's behalf. I urge to do what is best for the animals in your care, rather than your own gain.
Sincerely,
[Your Name Here]
Photo credit: Karyn Christner