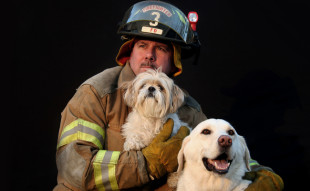 Target: Ohio Governor John Kasich
Goal: Congratulate Ohio on making new law that allows first responders to save pet's lives.
First responders are now required to carry around pet-friendly gear and are licensed to care for animals in situations of emergency thanks to a new law passed in Ohio. The bill was signed into law recently by Governor John Kasich and has since been a huge success in terms of securing the equipment needed to save the lives of Ohio pets.
First responders are some of our country's biggest heroes, stepping into wildly dangerous situations to save the lives of men, women, children, and in some cases, even our pets. Unfortunately, when a first responder saves a pet's life, they are often taking a serious legal risk. In many states, only licensed veterinarians are allowed to "care" for an animal or treat them medically.
In the past, Ohio firefighters and first responders have used special equipment to save animal lives, but because of the existing laws, it put them in a legal gray area. Now that the new law has been signed by Kasich, Lieutenant Bivens of the Delaware Fire Department said that a little legal protection was all they needed to stop worrying, and they can continue business as usual.
The law only covers most of central Ohio right now and the Delaware Department isn't the only fire department that has equipment for helping animals. Marysville, Violet Township, and Lancaster all have the equipment available as well. The Newark department has some, but has only used it several times in the past two years–but now that the law is in effect, they plan on budgeting for the equipment.
Soon, all of Ohio will be equipped to save the lives of our furry friends along with our human friends. Sign our petition to thank the governor for helping to pass this compassionate law.
PETITION LETTER:
Dear Governor Kasich,
The state of Ohio has made a momentous decision by enacting legislation that allows first responders to treat animals in emergency situations. It seems to be common sense that we should have all firetrucks equipped with oxygen equipment for animals, but according to certain state laws, some departments could get in trouble for even carrying that equipment, let alone using it. So by taking the step forward and electing to allow this equipment to be used, it sets an incredible precedent for fire departments all across the country that they too can legally care for animals in emergency situations if they choose to lobby their state congress over it.
Moving forward, it would be incredible to see Ohio pass more animal welfare laws, but this is a fantastic start. Signing this bill into law proved that Ohio cares deeply for all of its citizens, especially the ones covered in fur. Congratulations to you, Governor Kasich, your State Congress, and to all the firefighters and first responders in the state of Ohio that champion animal welfare with every decision they make.
Sincerely,
[Your Name Here]
Photo credit: Thinkstock