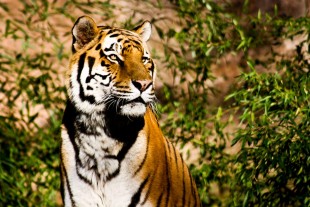 Target: Phra Visuthisarahhera, Abbot at Wat Pha Luangta Bua Yannasampanno
Goal: Drop charges against woman who saved nearly 150 tigers from cruel captivity.
Defamation charges have been laid against an activist who helped close a controversial tiger temple in Thailand. According to the suit, Sybelle Foxcroft, director of Australian non-governmental organization Cee4Life, made false allegations about what went on in the temple. In particular, temple abbots claim that her investigation's allegations that tigers were being sold illegally across borders were both misleading and damaging.
Foxcroft conducted two separate investigations into the temple, both of which uncovered cruelty. The investigations alleged that temple administrators were trading tiger parts across international borders. The documents also alleged the disappearance of three tigers from the facility in 2014, again hinting at illegal wildlife trafficking. National Geographic recently used information from these reports for its own exposé, which brought the issue to worldwide attention.
This cruel temple has since been closed by police. All of the animals were removed within a span of a few days and re-homed to sanctuaries across Thailand. Authorities found preserved tiger parts in jars, tiger pelts, tiger jewelry, and even some endangered birds on the premises as well. The government is currently seeking to seize 80 percent of the temple's land and redistribute it to farmers in need.
Considering the atrocities that took place at this temple, it was right to have been closed. Now, we must protect the investigators and activists that made the closure possible. Sign the petition below to demand that all charges are dropped against Sybelle Foxcroft.
PETITION LETTER:
Dear Abbot Visuthisarahhera,
Charges have recently been laid against activist Sybelle Foxcroft on behalf of Wat Pha Luangta Bua Yannasampanno. These charges allege that Foxcroft, a director of an Australian animal welfare organization, defamed the temple with her two investigations into the temple's reported cruelty. These investigations reported links between the temple and the illegal wildlife trade.
During a police raid on the temple, authorities found tiger pelts, tiger parts stored in jars and labeled in English as if for sale, as well as hundreds of pieces of jewelry featuring tiger skins or teeth. It is a fair conclusion that these items could be used for illegal sales. We, the undersigned, demand that you drop this frivolous charges against Mrs. Foxcroft.
Sincerely,
[Your Name Here]
Photo credit: Hanna Boehm0