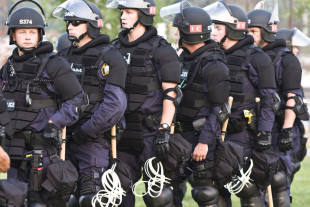 Target: Baton Rouge Mayor Kip Holden
Goal: Withdraw tanks, sound cannons, and other military equipment from American town experiencing peaceful protests.
Riot gear, tanks, and military-grade sound cannons are being used on citizens in Baton Rouge, Louisiana as they engage in peaceful protests. Reports are saying that although there was an "unauthorized" protest in the city, it was completely peaceful until police forces started pushing back on the crowd for no good reason. Arrests soon began as the protest became chaotic.
According to one report, protesters were being physically pushed by police as they stood or walked along the shoulder of the highway so that they would stumble into the road to then be arrested for "obstructing a highway." A video shows this same thing happening to DeRay Mckesson, renowned civil rights activist and former Baltimore mayoral candidate.
Reports keep coming in about mass arrests and the use of a Long-Range Acoustic Device or "sound cannon," a device made for military use that can cause migraines, long-term hearing loss, and other health problems. SWAT cars can be seen in videos pushing through people on foot.
This kind of military-like force against a nation's citizens is completely unacceptable in a supposedly democratic society. Sign our petition to demand that all military equipment be removed from protest areas and that police stop using harmful tactics against peaceful protesters.
PETITION LETTER:
Dear Mayor Holden,
The reports of people in your city being shoved by police, subject to mass arrests, blasted with a sound cannon, and pushed by SWAT trucks are incredibly disturbing. These people are peaceful protesting exercising their First Amendment rights. Your police are treating them like enemy combatants. The military equipment needs to be removed from the situation.
Long-Range Acoustic Devices or "sound cannons" can cause migraines and long-term hearing loss. These police could be permanently damaging your citizens' hearing, and you're allowing it. There have also been reports of officers trying to shove marching protesters into the streets so that they can be arrested for "obstructing a highway." Your police are out of control.
Allowing for the militarization of your police force will only result in more violence. Citizens are very likely to be injured or wrongfully arrested, and treating your people like enemies only breeds resentment that leads to more protests and further violence. We demand that you withdraw all military devices from the city streets and order your police to work with the people, not against them.
Sincerely,
[Your Name Here]
Photo credit: Tony Webster