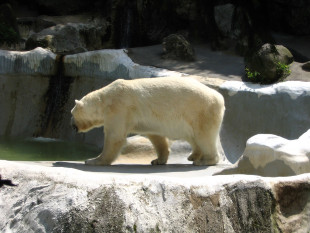 Target: Steve Burns, Executive Director of the Association of Zoos and Aquariums
Goal: Re-home polar bear living in humid and small zoo enclosure to appropriate sanctuary.
A polar bear is allegedly suffering from heat exhaustion and is stuck living in an enclosure that is much too small for the animal to thrive. We need to take action in order to ensure that this bear is immediately rescued and moved to a proper sanctuary.
Bronx zoo visitors apparently witnessed the 25-year-old bear, named Tundra, lying motionless in his enclosure, likely as a result of the temperature being 91 degrees. The bear was apparently so weak that he was only able to periodically move one of his paws to try and bring his ball closer to his body. Sadly, it was later claimed that the bear was struggling to stay confined to a tiny shaded area.
Scientists have stated that polar bears have difficulty surviving in temperatures that are above 29 degrees Fahrenheit. They have further concluded that a polar bear's home range is oftentimes much bigger than the areas that other types of bears occupy.
Demand Tundra be moved to a much cooler sanctuary where he will have room to roam. If Tundra is not moved to a more suitable setting soon, he will likely continue to suffer and eventually die.
PETITION LETTER:
Dear Executive Director Burns,
A zoo that is accredited by the Association of Zoos and Aquariums (AZA) is forcing a polar bear to live in unbearable heat and to remain in an enclosure that is much too small, according to reports. This animal needs to be moved to an appropriate sanctuary if this is found to be the case.
Tundra the polar bear was supposedly seen by visitors lying still in his enclosure, only occasionally moving his paw to try to hug his ball. The bear was also apparently later seen pacing back and forth in an extremely small shaded area.
Considering that scientists have found that these animals do not do well in temperatures above 29 degrees Fahrenheit, and further considering that these bears are known to occupy among the largest home range of any bear, allowing an AZA accredited zoo to continue treating Tundra in this manner is not acceptable.
I therefore urge you to demand that this bear be moved to a more suitable sanctuary where he will have adequate room to walk around and where he will also be able to remain cool throughout the year. Animals should not have to suffer because zoos are either unwilling or unable to provide them with appropriate living conditions.
Sincerely,
[Your Name Here]
Photo Credit: Andrew Hayward