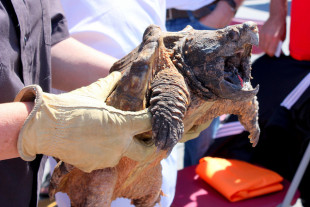 Target: Eric Schneiderman, Attorney General of New York
Goal: Severely punish owners for allegedly keeping hundreds of illegal and exotic animals in horrible conditions.
Authorities reportedly seized 400 animals from a home after they were found living in cruel conditions. Among the animals included 250 mostly exotic birds, 151 reptiles, including an alligator snapping turtle, an Asian water monitor, sugar gliders, chinchillas, prairie dogs, cats, dogs, and a skunk.
The animals were living in filthy water and lacked a healthy supply of fresh air, proper food, and drinking water, according to a spokesman for the SPCA. The air was so unsanitary and odorous that workers had to wear Tyvek suits and use air filtration systems.
The same house was reportedly raided once before and an alligator seized, but the owners were only told to clean up. Outlets say the owners "may face charges" this time. Had the authorities taken appropriate action before, this many animals wouldn't have suffered. Demand that authorities take animal cruelty seriously and prosecute these abusers to the fullest extent.
PETITION LETTER:
Dear Mr. Schneiderman,
About 400 animals, including illegal reptiles and exotic birds were reportedly seized when officers found them living in severely unsanitary conditions. A previous raid resulted in an alligator being seized, yet the owners were only told to clean up.
These are unnecessarily cruel conditions and it's appalling that it was allowed to go this far. Please take animals' lives seriously and charge the owners with animal cruelty.
Sincerely,
[Your Name Here]
Photo credit: Danna & Curious Tangles