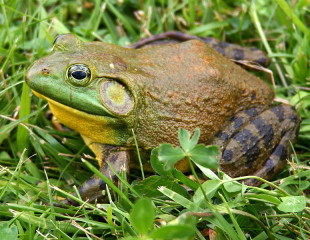 Target: DeKalb County Mayor Mike Foster
Goal: Stop the cold-blooded abuse of frogs in Tennessee.
For three years in a row, Smithville, Tennessee has held an annual fundraiser event in which hundreds of frogs are killed and tortured in cold blood to raise money for scholarships. "Giggin' for Grads," it's called, and it is absolutely horrific. Frogs are stabbed, thrown against cold, hard surfaces, stepped on, and put through other malicious acts all for the sake of monetary gain.
People don't typically think of frogs as sweet, innocent creatures; they're not as cuddly as cats, dogs, or rabbits. But beauty is in the eye of the beholder, and all living creatures are beautiful in their own way and far from deserving of such cruel treatment. In addition, frogs are not typically predatory animals, meaning there's no reason to fear them or "get them before they get us." This fundraiser operates on the slaughter of frogs for no reason other than to make money.
The mass slaughter of any one group of animals is never a good idea, but it's especially bad when it's a species already declining. In addition, it is also disruptive to the wildlife. Worse still, frogs don't die quickly. They linger and suffer from the impact and severity of the brutality inflicted upon them, making for slow and painful ends. No creature deserves to suffer that way.
Over many decades, schools have found wonderful, ethical ways to earn money for scholarships and other causes. Cookie or candy sales, sponsored marathons, car washes–the list is endless, and none of these involve harming animals. There is absolutely no reason to start a tradition based on the killing of innocent animals.
PETITION LETTER:
Dear Mr. Foster,
Please don't go through with a 4th year of "Giggin' for Grads." The slaughter and abuse of innocent animals is nothing to make a sport or a celebration out of. Animal cruelty is a crime, and scholarship money should not be earned through crime. Don't encourage students to do such a thing, don't send the message that harming innocent creatures is a way to earn some quick cash. A solid future and a good education should not be funded by slaughter.
Raising money for scholarships is a noble goal, and should be encouraged, but this is the wrong way to do it. Please call off this event and choose another, more ethical means of earning money for these scholarships. Bake sales, car washes, there are many ways to earn money more ethically than by harming frogs.
End a tradition that should have never been.
Sincerely,
[Your Name Here]
Photo Credit: Carl D. Howe