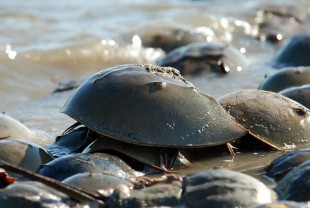 Target: Dan Ashe, Director, U.S. Fish and Widlife Service
Goal: Create federal plan to stop the overharvesting of horseshoe crabs.
Though not imperiled, horseshoe crabs are subject to overfishing in many areas and because their existence is so crucial to their ecosystems, this problem can have far-reaching effects. Threats to horseshoe crab habitat are also a concern as human impacts have made it difficult for these animals to nest in certain places. Though some states have created bans or restrictions on horseshoe crab harvesting, some states have no regulations on the practice at all.
Horseshoe crabs are well known for their unique appearance and for being one of the most ancient species on Earth at over 445 million years old. Their status as a crucial keystone species for multiple ecosystems along the eastern seaboard is less commonly known. Keystone species are those that, when impacted, tend to create a ripple effect across the ecosystem. As a keystone species, horseshoe crabs serve as a pivotal food source for many other animals, including several endangered species who depend on them for survival.
Federal restrictions on harvesting of horseshoe crabs could potentially be a boon to the species. Ask that the U.S. Fish and Wildlife Service consider restricting this practice at a federal level. Federal protections for horseshoe crabs might save the species from further depletion and, in turn, save other endangered species from damage.
PETITION LETTER:
Dear Director Ashe,
The horseshoe crab, though not yet endangered, is currently seeing its numbers drop in many areas. This population decrease is a direct result of overharvesting. Because of the horseshoe crab's status as a keystone species, this problem can potentially have devastating and far-reaching effects.
We, the undersigned, are afraid of a future in which horseshoe crabs are increasingly overharvested and imperiled. We do not want the horseshoe crab to become threatened or endangered, and believe that the U.S. Fish and Wildlife Service is in a unique position to advocate against this possibility.
Endangerment of the horseshoe crab could have harmful impacts on multiple other species, some of them already endangered, who rely on the horseshoe crab as a food source. We ask that you create and enforce federal limits on horseshoe crab harvesting in order to protect the fragile ecosystems of the eastern seaboard.
Sincerely,
[Your Name Here]
Photo Credit: Greg Breese