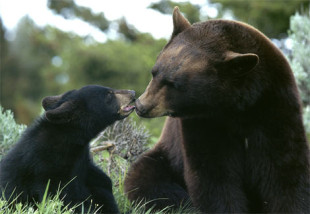 Target: Great Smoky Mountains National Park Superintendent Cassius Cash
Goal: Replace euthanization of problem bears with rehabilitation.
In the Great Smoky Mountains National Park, "problem bears," or aggressive bears who have become reliant on people for food, are considered beyond help, and are euthanized to protect the safety of park visitors. Recently, a 400-pound bear was killed by park officials after a sleeping hiker was attacked in his tent; however, DNA evidence revealed that the euthanized bear was not actually responsible for the attack. Rehabilitation, a viable alternative to euthanasia, might prevent future unfortunate, pointless losses like the one in this case, while protecting the safety and livelihood of both visitors and bears.
Though black bear attacks on humans are extremely unusual, and serious injury rarely results from such an encounter, the animals can become aggressive as a result of human impacts on their environment. Any contact with humans can damage a bear's well-being, gradually removing the healthy, instinctual fear of people that black bears naturally possess and encouraging movement toward populated areas where human food is more easily scavenged. When a black bear develops a taste for salty, sugary human food, its instincts for finding food in its natural environment are hobbled; the bear becomes reliant on people to satiate its hunger, and can be found scavenging in human refuse, or approaching people in hopes of being offered food — both potentially dangerous scenarios.
Bear rehabilitation programs, though few in number, have a proven track record of "deprogramming" bears out of learned, destructive behaviors resulting from human interaction. It seems appropriate to the National Park Service's mission to take a conservation-minded approach with problem animals, and rehabilitate them rather than simply dispose of them. Ask that the Great Smoky Mountains National Park replace its killings of problem bears with a rehabilitation program that will allow them to be reintroduced to their natural environment.
PETITION LETTER:
Dear Superintendent Cash,
The black bear is a beloved symbol of the Smoky Mountains, and millions of visitors flock to the Smokies annually in hopes of spotting these adorable animals. These visitors sometimes negatively impact these bears in ways they don't realize are harmful — feeding them, ingratiating them to people, and otherwise reducing their ability to listen to their natural instincts. Sometimes, these bears unfortunately become aggressive, endangering themselves and park visitors.
Though it seems unfair that bears must be punished for the impacts that humans make on their lives, we understand the need for park officials to create a safe environment for park visitors. As an alternative to euthanasia, especially following the recent, unfortunate killing of a bear that was not actually responsible for an attack, we, the undersigned would like to propose that problem bears be rehabilitated and re-released into their home, the Smokies. We, the undersigned, believe that no bear is disposable.
Sincerely,
[Your Name Here]
Photo credit: beingmyself