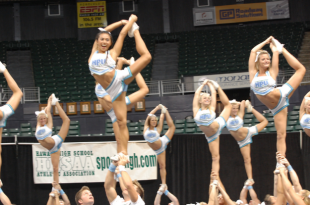 Target: Jennifer Cohen, University of Washington Interim Athletic Director
Goal: Reform cheerleading department that posted a sexist tryout poster with body type requirements and other misogynistic appearance requirements.
The University of Washington cheerleading department came under fire recently for posting a tryout poster with sexist guidelines related to potential cheerleaders' appearances. A department putting out posters like this is perpetuating harmful and limiting beauty standards against women in a sport that already has rampant problems with sexism, and it must be reformed.
The poster listed ideal looks for tryouts, which included a "physically fit, athletic physique" and a "natural tan or spray tan." The poster also said that potential cheerleaders should wear just a sports bra and mid-rise black shorts, while telling them not to wear any tops "that cover the midriff."
The University of Washington athletic department said they instructed the squad to take down the poster after realizing that it could be seen as offensive, but this is not enough. Obviously whoever is running the department and allowed this poster to go out needs a lesson in female empowerment. Urge officials to reform the department and fight back against sexism.
PETITION LETTER:
Dear Director Cohen,
Your cheerleading department was recently scrutinized for putting out a tryout poster that was offensive and included misogynistic guidelines that perpetuate damaging and discriminatory beauty standards for women. Rather than encouraging all kinds of women to try out based on talent, it reduced them to their appearance.
The department took down the poster, but this is not enough. This is a common problem and must be addressed on a higher level. I urge you to reform the department and implement policies that protect women from sexist incidents like this.
Sincerely,
[Your Name Here]
Photo credit: Hawaiian Moore