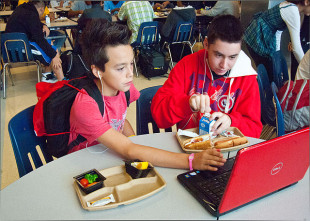 Target: Paul Ryan, Speaker of the U.S. House of Representatives
Goal: Halt efforts to cut funding to free and subsidized school lunch programs.
In efforts that have had little to no press coverage, Republicans in the U.S. House of Representatives are working to roll back a section of the 2010 Healthy Hunger-Free Kids Act, a public school nutrition law that provides free lunches to students in high-poverty schools. If they have their way, House Republicans will significantly reduce the number of schools that are eligible for free or subsidized meal programs, leaving millions of public school students without a guaranteed meal during the day, a meal that, for many, is the only reliable source of food during the week.
According to the Center on Budget and Policy Priorities, these efforts would revoke eligibility for 7,022 schools serving 3.4 million students. Furthermore, an additional 11,647 schools that qualify for free or subsidized meal programs, but have not adopted such programs, will suddenly lose eligibility.
The Healthy Hunger-Free Kids Act, along with providing additional funding for free and reduced-price lunch programs and after school programs, also improved school nutrition standards. The bill required more fruits, vegetables, and whole grains, seeking to combat physical side effects of poverty, such as obesity, diabetes, and heart disease.
The legislation provides free lunches and after-school meals to every student enrolled in a public school where at least 40 percent of its student body lived in low-income households. House Republicans, in rolling back the act, are attempting to increase the standard from 40 percent to 60 percent.
Republican lawmakers have been calling the 40 percent threshold an example of wasteful spending and have defended their efforts by saying it would save taxpayers money. Sign the petition to tell them that we pay taxes so money can be invested into programs like free and subsidized meal programs for low-income students. Tell them that shaving a few dollars off federal spending is not worth forcing low-income public school students to starve.
PETITION LETTER:
Dear Speaker Ryan,
House Republicans have been working diligently to roll back portions of the 2010 Healthy Hunger-Free Kids Act that guarantee free or reduced-priced lunches for low-income students who desperately need them. Their efforts are under the guise of curbing what they consider to be wasteful spending, but since when has feeding the poor been considered wasteful spending? Their efforts seek to undermine tens of thousands of schools and strip what may be the only reliable meal of the day from millions of children.
It is with this in mind that we urge you to stop your peers in the House from successfully rolling back portions of the 2010 Healthy Hunger-Free Kids Act. Every student should be guaranteed a meal at school, whether they have the money to pay for it themselves or not. No child should have to starve because of their socioeconomic situation and it is the responsibility of the federal government to use money collected through taxes for programs like this one.
Sincerely,
[Your Name Here]
Photo Credit: U.S. Department of Agriculture