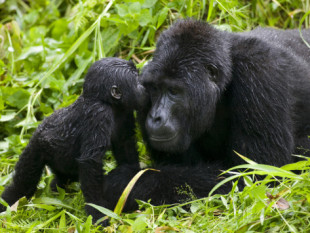 Target: Chief Warden of Virunga National Park Emmanuel de Merode
Goal: Protect endangered mountain gorillas by creating a sanctuary for them separate from surrounding villages.
Mountain gorillas, an incredibly endangered primate species whose numbers have recently reached as little as 880, face increasingly dangerous interactions with surrounding villages in the Congo. Virunga National Park, home to the last few remaining members of the species, has recently witnessed the deaths of many local gorilla and buffalo when involved in altercations with these local communities. As these animals retreat downward from their own homes in the Congo, they are often met with violent reactions from surrounding communities who are worried they will threaten local agriculture and general welfare.
Local wildlife cannot be expected to stop wandering about the park freely, and local communities cannot be expected to uproot the towns they have grown up in and abandon the land they have farmed for generations. The number of individuals moving to, settling in, and creating families in these regions is only increasing. Thus far, one woman, countless forest buffalo, and one of less than 1,000 remaining mountain gorillas have been reported dead due to these altercations.
Because of this, it is critical that conservation efforts secure unoccupied territory for the wildlife to roam free without coming into contact with groups that live in neighboring areas. By helping support a 54-kilometer electric fence surrounding this reserved area, you will help enclose these animals in an environment that is safer not only for the wildlife but also for the local people who share this beautiful park with the animals. By signing this petition, you will be showing public support of Virunga National Park's effort to help create a safer environment for all inhabitants of the park by building an electric fence to help keep local people and wildlife separate.
If you can, I also encourage you to donate to the cause, here: https://virunga.org/news/electric-wildlife-fence-project/
PETITION LETTER:
Dear Chief Warden Emmanuel de Merode,
The loss of wildlife in Virunga National Park due to human contact is devastating to biodiversity conservation efforts and must be prevented. With the precious lives of both the mountain gorillas and local villagers' at risk, separating the people and animals inhabiting Virunga National Park is imperative.
When wildlife comes into contact with the human groups populating Virunga National Park, violence almost always ensues. These altercations are not only dangerous for the people who often end up injured when encountering animals such as a forest buffalo, but also for the wildlife who do not understand the threat they may pose to these communities. I applaud your organization for fighting for the lives of these beautiful creatures whose ecosystems are often affected by complex processes and issues much larger than themselves.
I, too, want to be a part of the solution. Small electric fence projects that attempt to keep humans and wildlife separate have been tested in the area and have met with great success. I support the funding, building, and implementation of the proposed new 54-kilometer electric fence to ensure wild animals do not encounter people.
Sincerely,
[Your Name Here]
Photo Credit: Paul Souders